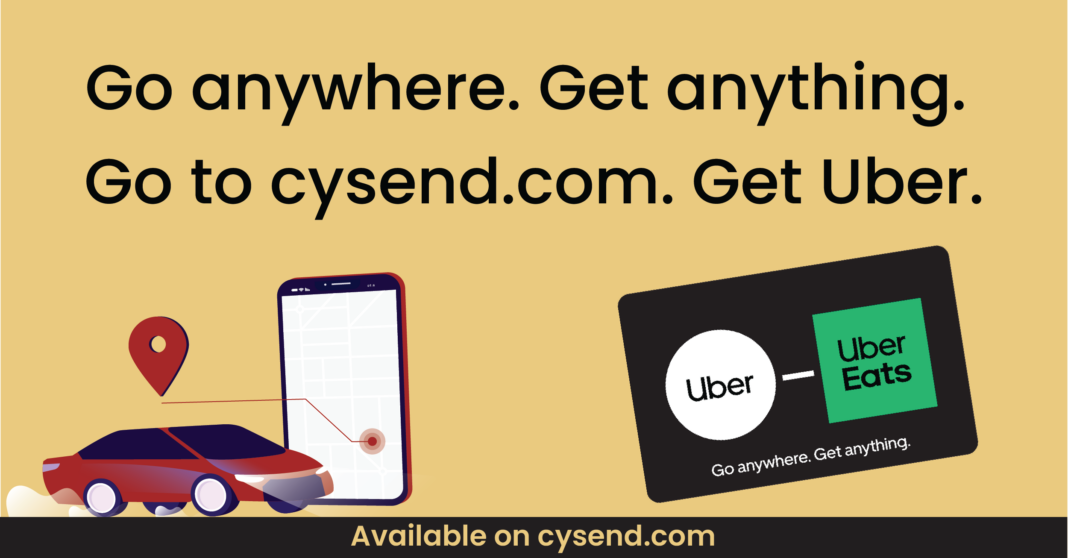 Shop Uber and Uber Eats Gift Cards Online Today
Discover the magic of Uber Eats and Uber Rides Gift Cards and Vouchers! Uber Eats Gift Cards brings tasty meals to your doorstep, while Uber Rides Gift Cards offers effortless transportation to your desired destinations.
Uber Rides Gift Cards and Vouchers
Travel Without Limits! No more worries about finding local currency or navigating unfamiliar transportation systems! With Uber Rides Vouchers, you can travel anywhere, even in different countries.
No matter if you're commuting to work, exploring new places, or visiting friends, these vouchers offer a reliable and comfortable ride to your destination. Simply redeem the voucher, and you're all set for a smooth ride, wherever your adventure takes you.
Uber Eats Gift Cards and Vouchers
With Uber Eats Gift Cards you can enjoy delicious meals and choose cuisines. Have your favorite dishes from your favorite local restaurants delivered to your doorstep through the Uber Eats app. It's an easy way to satisfy your cravings without leaving home! No cooking, no fuss – just pure enjoyment! Treat yourself and someone you care about to delicious meals and explore different cuisines with Uber Gift Card.
With Uber Rides Gift Cards and Uber Eats Gift Cards, flexibility is key. The cards purchased in the US, UK and Canada have no expiry date, ensuring that you can use them at your convenience without any rush. Moreover, these Gift Cards can only be used in the country where you made the purchase.
Can you use the Uber Gift Cards for all of Uber's services?
The answer is yes. Some gift cards offer both Uber Rides and Uber Eats options, allowing you to choose based on your mood and preferences. The choice is yours, and the possibilities are endless in a single gift card!
Give the gift of Uber and send an Uber Gift Card within minutes. Reliable rides and delicious meals from local restaurants.
Go anywhere and get anything with Uber Gift Cards on cysend.com!