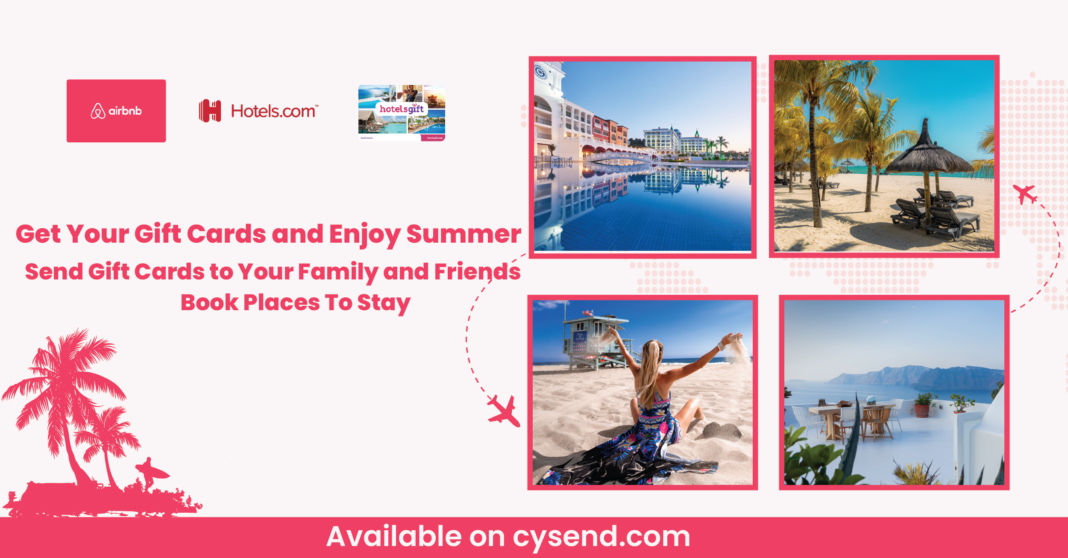 Summer is here, and it's time for fantastic vacations! Whether you're in the North America, Europe or anywhere around the globe there are awesome places to explore. To make your summer adventures even better, you can use easy travel with Gift Cards on cysend.com.
With Airbnb and Hotels Gift Cards, you have the freedom to choose from a wide range of options. Airbnb, HotelsGift, Hotels.com Gift Cards and many more offer over 750,000 Hotels, Villas & Apartments to book with one Gift Card.
Here are some destinations to consider:
Beautiful Beaches in Cornwall:
Escape to Cornwall, UK's lovely coastline. Enjoy sandy beaches, cute fishing villages, and walks with stunning sea views. Try delicious seafood and learn about the area's fascinating history.
Peaceful Time in the Stockholm Archipelago:
Discover the calmness of the Stockholm Archipelago in Sweden. With over 30,000 islands, you'll find relaxation and fun activities in beautiful natural enviroments.
Excitement in Barcelona:
Feel the energy of Barcelona, Spain. Experience unique buildings designed by Antoni Gaudí, taste yummy tapas, and enjoy sunny days on lively beaches.
Paradise in Santorini:
Savor the beauty of Santorini, Greece. Enjoy amazing sunsets, white buildings, and crystal-clear waters that make this island a dreamy Mediterranean destination.
Here's how travel gift cards can make your summer even better:
Airbnb Gift Cards: With an Airbnb gift card, you can choose cool places to stay, like cozy cottages and stylish apartments, in any of the mentioned countries.


Hotels.com Gift Cards: hotels.com offers a wide range of comfortable hotels, making it easy to find the perfect place to stay on your summer trip.


HotelsGift Gift Cards: HotelsGift lets you pick from various hotel brands, so you can stay wherever you like in the mentioned countries.
Don't miss out on creating beautiful memories this summer. Get your Gift cards and travel to your favorite places.
Share the joy of travel with a Gift card!